01

The Boundless LG Q6

LG Q6 smartphone has all the characteristics of a modern device. These are power features, an excellent camera, a reinforced aluminum body and the finest frames that allow you to go beyond the usual perception of a smartphone.

A cool device requires cool ambassadors. A popular singer Keti Topuria, RNB singer Natan, supermodel Elena Kuletskaya and choreographer Yegor Druzhinin are the characters who are presenting LG Q6 to the wide audience.
02

Interactive Landing

On the New Year's Eve there appeared the idea to create a tool for sending warmest congratulations from the celebrities. In order to do this, we developed a special design kit on the lg.com website.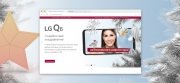 There you can choose one of the four star congratulators and their emotions. Then you can decide on the form of address and the text of congratulations. Everyone has his or her own characters. For example, Keti wished "To fly away being in love on New Year's Eve", according to a famous song. Yegor Druzhinin wished "Progress to the rhythm of waltz".




The final touch is the decoration with New Year stickers. You can put them in any free place, according to Your taste. The postcard is built into the LG Q6 screen. One can publish the congratulations on social networks on your own account or on your friends' pages. The design kit works both on computers and on mobile devices.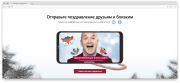 03

Advertising Banners on Instagram

For Facebook, VK and Instagram, we developed the attractive "carousel banners" allowing viewers to create their own congratulations where the celebrities congratulate users on their favorite holiday. This advertising evoked positive emotions and got a large number of likes, which is far from being typical for sponsorship posts.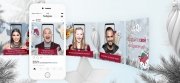 04

Creating html5 Banner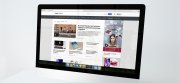 It is worth paying special attention to HTML5-banner. We also made it interactive. Congratulations from Keti were complemented with stickers added when hovering the cursor over them.
05

Video
Apart from the above formats, we have cut four short videos with our characters. The work of the New Year designer kit was demonstrated in each of them.
Users liked the diverse special project that gave them a lot of wonderful emotions. The project created New Year's mood together with LG Q6!
06

Client's Review

Natalia Mikhailova
Marketing Department Manager
Thanks to the guys from GreenMars! First of all, thanks for being ready not only to listen, but to hear; secondly, for quick work execution and strict adherence to all the guides (even the most complicated ones); thirdly, for the professional recommendations and sensible advice; and of course, for the quality of work, which is superb. Together we worked on the design of banners, POP, outdoor and print advertising. We stayed happy with everything!
18.07.2018
07

More Work for LG Electronics