01

Objective

Preparation of materials, finalization and branding of zuzza.ru online gallery within the framework of a special joint project of Cheil advertising agency and ZUZZA online gallery of exclusive copyrighted photos. The project is named "Beyond the Horizon" and it has been developed for Samsung company. The idea and the details of special project's implementation have been provided by Cheil advertising agency.
02

The Idea of the Special Project

Samsung special project Over the Horizon is a story about the blind traveler Alexander Zhuravlev. The man lost his sight being 11 years old and now he has only 2% of residual vision. But he did not give up. He began to travel, practiced mountain skiing and, finally, he started taking photos. He did it with the help of Samsung Galaxy S7 Edge.

Within the framework of the special project, Alexander together with the other expedition members and with his faithful companion, the guide dog Umka, made an exciting journey around Ural. On his way, he captured the beauty of our fantastic world with the help of Galaxy S7 Edge.


On the home page of the special project you could learn more about this touching and powerful story and also see the photos made by Alexander. All the pictures can be purchased in the online photo gallery ZUZZA.ru.
03

Branding

We were lucky to take part in this wonderful project. Specifically for this, on the website ZUZZA.ru we developed a section where you could choose the photo you liked, select the design and, of course, find out the information about the author of work. During the period of special project´s implementation, all the pages of the site were branded in accordance with the visual images of "Beyond the Horizon" project.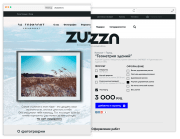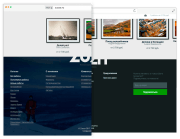 04

Postcards and Pictures

We also took care of the pre-print preparation of photographs and the design of the reverse side of postcards. It was done in order to make them correspond to the uniform style of the special project and look good in various formats.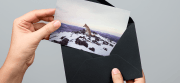 The special project won 24 awards at the international advertising festivals and became one of the strongest social statements in media in 2017.