Mazda

01

Amazingly ZOOMing!

For Mazda Motor company, we carried out a technical implementation of digital banners in the format of 10-second videos.

They are broadcast on huge advertising constructions located along the main Moscow highways.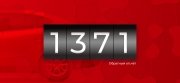 Banners demonstrate the countdown of the remaining cars available to the Customers. They constitute the part of Mazda advertising campaign of winter 2017. The video is made with the help of html5 and it provides the ability to change the number of cars in a real time mode.